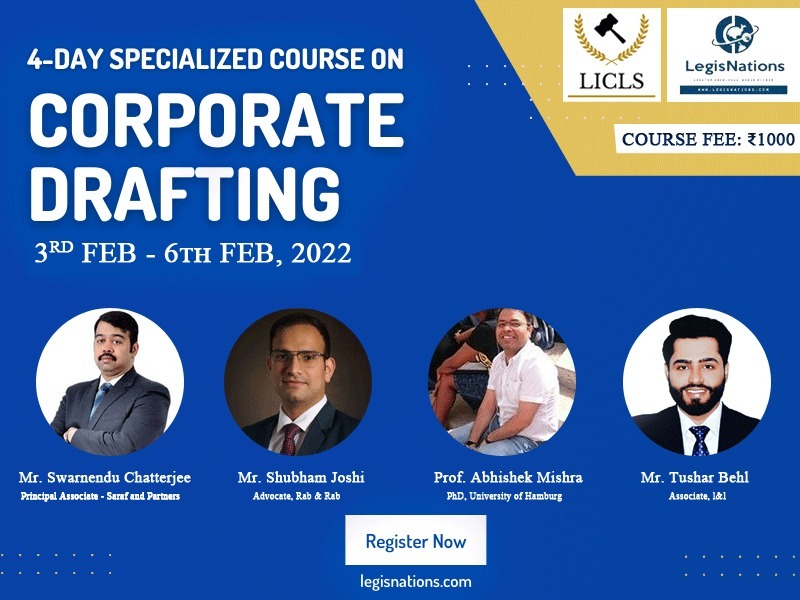 In the previous several decades, the business sector has experienced unprecedented expansion, resulting in a rise in massive prospects for Corporate Law Professionals not only in India but around the world. Again, as the need for Corporate Professionals grows, so does the demand for Corporate Law Courses, both in terms of quantity and scope.
A corporate lawyer is a lawyer who is in charge of company operations and spends less time in the courtroom. Corporate attorneys, unlike ordinary lawyers, can act as part of a company's legal team as in-house counsel.
A corporate lawyer must be skilled in legal research to guarantee that his client follows the most recent rules and/or practices. A corporate lawyer assists an individual, firm, or business with taxation, employee relations, labor regulations, intellectual property rights legislation, and employment laws, among other things. A corporate lawyer's job is to verify that all of an organization's business dealings are legal. A corporate lawyer must have an extensive understanding of corporate laws, such as contract law, securities law, tax law, bankruptcy, intellectual property rights, and so on, in order to fulfill such obligations.
LEGISNATIONS IS PRESENTING ITS CERTIFICATE COURSE ON CORPORATE DRAFTING
This is a highly recommended course for all legal professionals (young as well as experienced), Law and MBA students, Management Executives, Company Secretaries, Procurement professionals, Real Estate Brokers, Chartered Accountants, Paralegals, Government and PSU officials, and any professional entering and negotiating contracts.
Different types of Contracts in the form of an e-compendium are included in the course content, such as Partnership Agreements, Shareholder Contracts, IPR Assignments, Non-Disclosure Agreements, IPR Licensing, Technology Transfer, Agreement to Sell and Purchase (Real Estate), and many others.
COURSE OUTCOME
Learn the art of drafting clauses
Gain exposure of strategic drafting
Get access templates drafted by experts
Learn how to create standard format of contracts
Get a knowledge of basic mistakes done by the drafter of the contract
Participants will be accepted on a First Come First Served Basis.
Contact Information
Please call: +91-8755795271 or mail us at: [email protected], [email protected].
Terms and Conditions:
The event is open to all students without any age restrictions.
By paying for the course, the participant is implicitly agreeing to the terms and conditions of Legisnations. An entrant is indicating his/her agreement to be bound by these terms and conditions.
Route to entry for the course and details of how to enter are via https://legisnations.com.
Legisnations holds no responsibility for the payments not received for whatever reason or by any third party claiming to be a part of Legisnations.
The registration fee for the event is non-refundable in any circumstance, even if the event gets canceled or postponed without any prior information.
LegisNations reserves the right to cancel or amend the event and these terms and conditions without notice in the event of a catastrophe, war, civil or military disturbance, act of God, or any actual or anticipated breach of any applicable law or regulation, or any other event outside of the promoter's control. Any changes to the event will be notified to entrants as soon as possible by the promoter.
Internships stated in the add-on perks are subject to availability and is not guaranteed in any circumstances. It totally depends upon the firm's vacancy and the participant's performance. We reserve the right to substitute any candidate getting an internship with another without giving any notice.
The organizer's decision in respect of all matters to do with the course will be final and no correspondence will be entered into.
Entry into the event will be deemed acceptance of these terms and conditions.