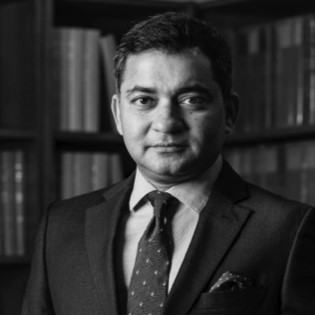 Mr. Thayananthan Baskaran

Editor-in-Chief

Baskaran, 50-11-7 Wisma UOA Damansara, Damansara Heights, 50490, Kuala Lumpur Malaysia

Thayananthan Baskaran is a partner with Baskaran, Kuala Lumpur, and an associate member of Crown Office Chambers, London. Mr Baskaran is the author of Arbitration in Malaysia: A Commentary on the Malaysian Arbitration Act published by Kluwer Law International in 2019. Mr Baskaran was the Chair of the Chartered Institute of Arbitrators Malaysia Branch (2017-2019) and President of the Society of Construction Law Malaysia (2016-2017). Mr Baskaran was educated at St John's Institution, Kuala Lumpur, read law at King's College, London, and was called to the Bar by Gray's Inn.

Prof. Steve NGO

24 Raffles Place, #20-03 Suite-1, Clifford Centre, Singapore- 048621







Prof. Steve NGO is the President of the Beihai Asia International Arbitration Centre in Singapore. An international arbitrator, academic and arbitration specialist, he also chairs the arbitration & dispute resolution practice interest group of Asean Legal Alliance platform. Additionally, he is Chief Advisor of Myanmar International Arbitration Centre, AAA-ICDR Asia Advisory Committee Member, Council Member of Hong Kong International Mediation Centre (Chairman of Domain Name Dispute). 

Mr. Nivesh Sharma


Prudens Globus Legal Solutions
X-24A, Civil Wing, Tis Hazari Courts, Delhi-110054

Mr. Nivesh Sharma is the Founding Partner at Prudens Globus Legal Solutions, Moreover, he is an alumnus of National Law University, Delhi, in Competition Law.  He has been a Research Associate at the Indian Institute of Corporate Affairs.

Mr. Swarnendu Chatterjee

333, The Leela Palace, Diplomatic Enclave Chanakya Puri, New Delhi - 110023



Mr. Swarnendu Chatterjee is the Principal Associate at Saraf & Partners, and a practicing Advocate-on-Record, Supreme Court of India. He has also worked as a Managing Associate at L&L Partners. He possesses a deep interest in the Legal writing and is in the editorial of various renowned law journals. 

(Prof.) Dr. Radheshyam Prasad

Jaipur-Agra Bypass, Near New RTO office, Jagatpura, Jaipur-302017



(Prof.) Dr. Radheshyam Prasad is a

Professor and Dean at the School of Law,  Lingaya's University. He has previously worked as an Associate Professor at the School of Law,  UPES, and RMLNLU, Lucknow.

Mr. Kumar Rishabh Parth

Managing and Publishing Editor

G-13, Dwarka, New Delhi-110059





Mr. Kumar Rishabh Parth, is the co-founder & CEO of Legisnations, He is also the Founder & Editor-in-Chief for UPES Student Law Review, and has also worked as a Managing Editor with UPES SLR and International Review of Dispute Resolution. He is the Young ICCA Member and YSIAC Member. He also runs the LN Int'l Centre for Arbitration, Mediation, and Research. 

Mr. Bhavya Gupta

Student Editor

J2, Officers Colony, Near Session House, Ambala City, Haryana-134003
Mr. Bhavya Gupta is the co-founder & COO at Legisnations, and is a final year law student at School of Law, UPES. He is also serving as an Executive Editor at UPES Student Law Review.